ABOUT QBO
QBO is the most advanced sports trading platform. QBO (Quick Betting Order) is designed exclusively for professional traders to give them the best odds and highest stakes across multiple bookmakers and exchanges.
The QBO betting platform is an easy to use, multi-channel interface showing real time updated best odds, so that users can place aggregated orders at the highest liquidity in milliseconds. This solves any problems associated with poor liquidity, price movements and manual execution errors.
Top down execution

Odds formats (Decimal, Hong Kong, American)

Working Orders (auto-placement once order prices match)

Multiple currencies

Favourite events and competition filters

Comprehensive accounting software & full audit history

Smart search bar for faster browsing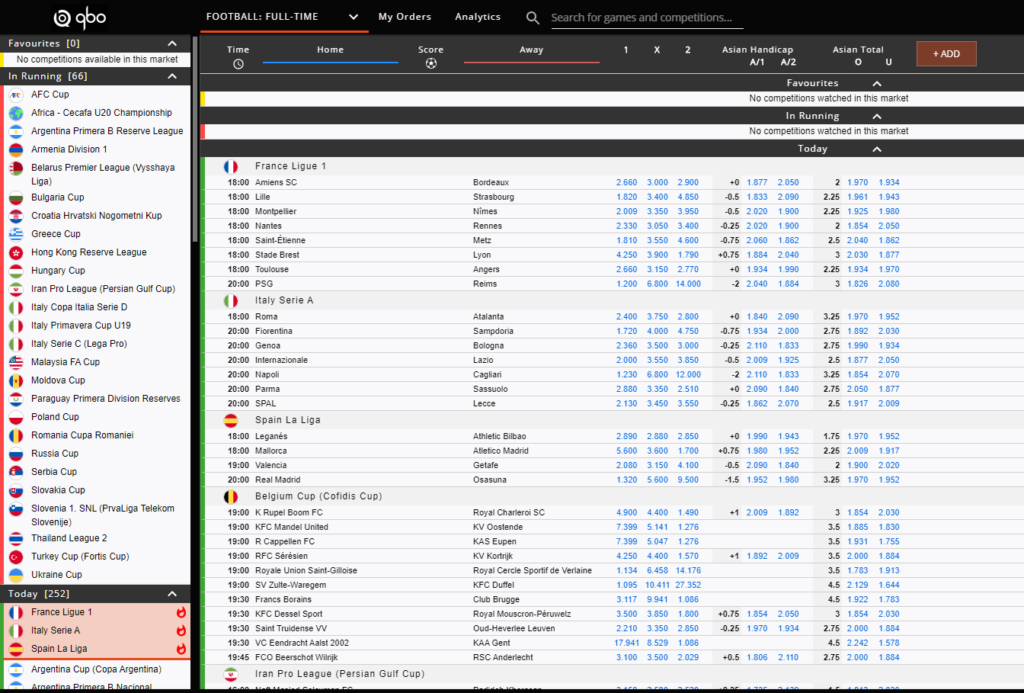 API
The QBO Sports Betting API (Application Programming Interface) allows users to run automatic computerized strategies on the platform and develop their own products. The QBO API has been optimised for performance in reacting to the market, retrieving data from bookmakers and has a very powerful throughput rate.
PARTNERS
Many of the world's largest Bookmakers, in particular the Asia-based operators, partner with authorised Agents to provide account and settlement services to their clients. The Agent's role is to establish betting accounts, manage client funds (e.g. receive deposits, send withdrawals, manage client credit and settle outstanding balances between the client and the bookmaker) and provide customer support.

At QBO we focus entirely on providing a world-class execution platform. We don't provide betting accounts and we don't accept client deposits. However, through our 10+ years of experience, we have established lasting relationships with a handful of highly reputable Agents.

If you require betting accounts, please let us know: we'd be happy to talk you through how the system works in more detail and put you in contact with an Agent that best suits your requirements.
Contact Us
Drop us a message. We usually respond within 24 hours of receiving your email.